Sights
Church of Our Lady of Mount Carmel

Did you know that Balluta Bay is home to one of Malta's most magnificent churches? Stunning both outside and in, this church is sure to leave you awestruck!
Truly a sight to behold, it has been captivating passers-by since its creation in 1859, and it's easy to see why.

With its towering Neo-Gothic facade boasting two clocks (one with the correct time and one to fool the devil!), the church is without a doubt one of Balluta's most prominent features.
Step inside its doors, and you're sure to be entranced by its magnificent columns, statues, and majestic vaulted ceiling with light pouring in through its stained-glass windows.

Church go-er or not, this ecclesiastical wonder is well worth popping into!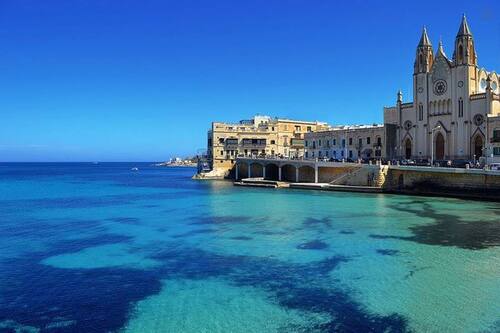 Balluta Bay

Situated on the cusp of Sliema and St Julians, on Malta's stunning Northeast coast, charming Balluta Bay is a small sandy beach and a much favoured swim spot among both locals and visitors. Famous for its unique emerald waters and soft sands, it's a delightful place to pause, unwind, and enjoy the breathtaking scenery.
The bay's clear waters, illuminated by its silver sandy bed, are ideal for swimming, snorkeling, and diving, whilst the smooth flat rocks surrounding the beach make for some pretty spectacular sunbathing too. Shallow, for at least 15 metres, Balluta Bay offers a safe seaside experience for children and families. And with toilets on site, as well as refreshment kiosks nearby, there is certainly no shortage of facilities.
Mere metres from the plethora of splendid restaurants adorning the glorious promenade, the beach is also perfect for a pre or postprandial dip!

A superb and convenient place to test the Maltese waters, a visit to Balluta bay is highly recommended!
St Patrick's Church

St. Patrick's Church is a Roman Catholic Church within the Parish of 'St. Gregory the Great', in Sliema.
It is administered by the Salesian Fathers who are also responsible for the 'St. Patrick's School' for boys.
The Church has been giving a liturgical and sacramental service ever since its open.
OPENING HOURS
Monday:0730-0900
Tuesday:0730-0900
Wednesday:0730-0900
Thursday:0730-0900
Friday:0730-0900
Saturday:0730-0900
Sunday:
Sliema Tower

Built in 1657 to protect St Julian's Bay from approaching enemy ships, the magnificent Sliema Tower is the fifth watchtower built under the reign of Grandmaster de Redin. Nearly 400 years later, it remains one of the most prominent features of the breathtaking Sliema Promenade, and is a highlight of any seaside stroll!
Similar in design to many of de Redin's towers, the two storey tower is square in shape with a turreted roof. Though relatively small in size compared to its counterparts, following the addition of a battery built around it in 1715, it was certainly no less mighty! And with a freestanding wall full of musket holes protected by a shallow ditch on its landside, access by enemy forces was extremely unlikely.
After being captured by insurgents during the 1798 French Invasion, the tower's guns were transferred to other fortifications so as to bombard the French in Valletta.

Today, Sliema Tower serves as a bustling restaurant, and is the ideal place to sit and enjoy the stunning Sliema seascape!
Church Of Jesus Of Nazareth

Located on the charming Strand in Sliema, the majestic Jesus of Nazareth Parish Church is one of the first sights to greet those entering the harbour by sea. As one of the town's four parishes, it is an architectural masterpiece and has a history dating back nearly 150 years.
The Church's origins were the brainchild of three brothers, all priests, who would vacation in Sliema each summer and give mass to the town's residents from a small chapel.

As the community grew, so did their needs, and they sought permission to build a larger church. Though this was not granted, soon after their death, their descendants decided to build one on their property.
Alas, the church was built in 1895. Though less ornate in style than many local churches, it is home to a plethora of treasures including statues of the prophets and an impressive array of sculptures adorning its facade.

Worth popping into if visiting Sliema, magnificent Jesus of Nazareth is an ecclesiastical gem!